Field Education
The Council on Social Work Education (CSWE) refers to field education as the "signature pedagogy" of the Master of Social Work (MSW) curriculum. SocialWork@Simmons offers rich field education experiences through a blend of interactive online learning and hands-on clinical training in communities. Through a two-part field education curriculum, students will have the opportunity to integrate classroom learning into clinical practice.
The SocialWork@Simmons field education model allows students to apply the theoretical concepts, principles, values, and ethics they learn in the classroom to a community practice setting under the supervision of a professional social worker. Through field experiences, students learn to apply clinical skills with clients and become familiar with the many roles social workers play in agencies and communities.
The Field Education Experience
Students in the MSW program will complete both a generalist and specialized field experience.
Generalist Field Experience
This first field experience provides a foundation in generalist social work practice over the course of two consecutive terms. Traditional MSW students will complete their first term of the generalist field experience in the Simulated Field Experience (SFX) and their second term at a community site.
The generalist experience will prepare students with:
An introduction to the ethical standards and values that define the social work profession
Exposure to the roles of social workers, such as clinicians, advocates, and case managers
The ability to engage and assess individuals, families, groups, and communities
Training, support, and feedback from experienced social work clinicians
Skills in building therapeutic relationships with clients and integrating clinical practices into their work
Specialized Field Experience
The specialized field placement will enable students to build on their generalist knowledge and hone assessment and intervention skills. This second clinical experience takes place over the course of two terms and provides students with:
Increased clinical opportunities to practice engaging, assessing, intervening, and evaluating diverse client groups
Regular practice applying theoretical concepts learned in weekly live classes to client interactions
Increased exposure to evidence-informed practices
Further practice applying their clinical skills while benefitting from the support and feedback of a skilled field instructor
The knowledge and confidence to begin identifying as professional social workers
Placements
SocialWork@Simmons has a dedicated placement team that works directly with students to identify placements at sites that will provide them with the preparation needed for clinical work with individuals, groups, and families. Simmons maintains a national network of clinical partnerships to ensure that students are able to complete their field placement in or near their own communities — allowing students to complete this requirement without relocating.
Learn More about Field Education Requirements.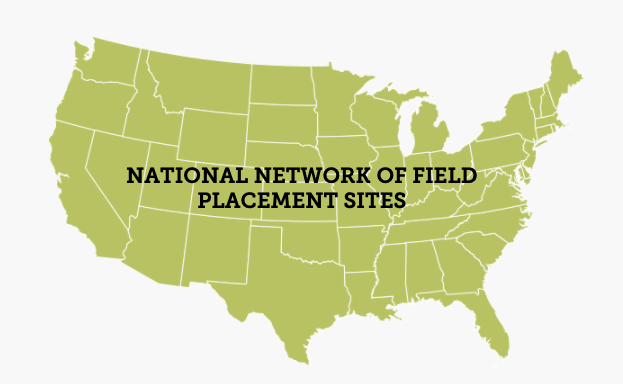 Field Instructors
In each field placement, students work with qualified field instructors who provide individual clinical supervision. Instructors share their knowledge and expertise, guiding students as they build on their academic foundation.
Under supervision, students demonstrate their skills in a range of roles:
Direct clinical practice
Accessing, coordinating, and developing services
Formulating bio-psycho-social assessments and treatment plans
Partnering with clients in making plans for intervention
Collaborating with staff and community providers
Case management and advocacy
While in the field, students receive additional support from a field liaison, who monitors their process, provides mentorship for professional development, and works with agencies to ensure the practice experience fulfills Simmons' educational objectives.
Simulated Field Experience
Traditional MSW students will participate in the Simulated Field Experience (SFX )for one term. In this immersive online learning lab environment, students will attend weekly live sessions, watch recorded lectures and engaging video content, and participate in simulated client experiences and role plays.
This interactive learning allows the student to receive supportive peer and instructor feedback, preparing them for entry into a community site setting. Students will also learn how to foster effective clinical relationships.
The Simulated Field Experience is a 5-credit course and consists of two 2-hour classes per week. Students will dedicate up to 10 hours per week to SFX live sessions, interactive course content, and additional assignments. The Simulated Field Experience experience will not count toward the total number of required fieldwork hours in the program.
In the following three terms, students will be in one community field placement that allows for further foundational learning in the first of these three terms, and then offers a steeper trajectory of clinical learning in the final two terms.
Clinical Placement Hours and Schedule
Students will complete field education requirements over the course of their program. Traditional MSW students will complete one term of the Simulated Field Experience followed by three terms of community-based experiences. These students should expect to dedicate up to 10 hours per week in the Simulated Field Experience and three 8-hour days per week in the field in the following three terms.
Advanced standing students complete a three term field placement beginning in term 2 and continuing through term 4. These students should expect to dedicate three 8-hour days each week for their field experience over the course of 3 academic terms.
Students can view their course sequence to learn the specific terms in which they'll be completing each of their field experiences.
Field Education FAQ
1. Can I complete my placement where I work?
If you are currently employed in a social service agency or clinical setting, you may apply to have an agency-based field placement. If you are a full-time or accelerated student, you are not able to complete both community-based placements at your work site. Please note that worksite field placements must meet the Simmons School of Social Work (SSW) criteria. The criteria include a different work assignment and new supervisor. Your supervisor must have an MSW and participate in a field instructor training provided through Simmons SSW.
2. How far will my clinical placement be from where I live?
How far will I have to drive?We make every attempt to locate a placement site that meets your educational needs. At times, the best placement match is farther from your home than you may prefer. You are required to be able to commute up to 60 miles to your placement site. If you are requesting accommodations at your field placement site, please inform the placement team and contact the Office of Disability Services at 1-617-521-2474 for assistance.
3. Can I complete my placement internationally?
Students cannot complete field placement outside of the continental United States and Hawaii. Students will not be placed internationally, including U.S. military bases, or in U.S. territories. Students living abroad with an upcoming placement term will need to relocate to the continental United States or Hawaii in order to be assigned a placement. Students are required to provide written notice of a new address at least 14 weeks prior to the first placement term, so the placement team can work to secure a placement site. Placement is not guaranteed for students who do not adhere to the foregoing requirements, and not following the requirements may necessitate a leave of absence from the program.