Clinical Placement and Immersion:
MSN — FNP
The online Master of Science in Nursing (MSN) — Family Nurse Practitioner (FNP) program blends online learning with in-person and hands-on experiences that prepare students for advanced practice. These in-person connections consist of a series of clinical placements and one immersion experience on our Boston campus. Through this comprehensive training, students meet requirements for FNP certification, but also develop the confidence and skill needed to deliver exceptional care as FNPs.
Clinical Placement
Nursing@Simmons MSN students complete two immersive clinical experiences across the lifespan.

Each student in the program collaborates with our clinical placement team to find placement opportunities ideally within 100 miles of their location. While students are expected to locate potential sites for their placements, our experienced team of specialists assists them throughout the process. Personal placement specialists help students understand their options, assess potential sites, vet these sites, and validate preceptors' credentials to ensure that they meet Simmons' requirements.
Simmons provides this additional layer of support to ensure that every student receives the best education possible and graduates fully prepared for their FNP career.
As of July 2020, we have assisted our students in securing:
OVER
6,800
TOTAL CLINICAL
PLACEMENTS
14,000+
AFFILIATED SITES
IN
48
STATES IN THE U.S. AND
THE U.S. VIRGIN ISLANDS
6,900+
PRECEPTORS
Dedicated Placement Support
Personal Placement Specialist
Students work one-on-one with a clinical placement specialist who assists them in securing sites and preceptors for each clinical placement term. Each placement specialist, who is specifically assigned to each student based on their state of residence, has a network of health care providers in every state and can use this knowledge to help identify high-quality placement opportunities.
Introduction Call
Nine months before their first clinical rotation, students will be invited to the clinical placement orientation to begin to prepare them for the placement process. Following the orientation, students will submit the Placement Intake Form and submit their resume so that their specialist has all the important information they need in order to ramp up outreach on the student's behalf.

During this call, the student success advisors will outline placement policies and expectations for the placement process. At this time, if it has not been done already, students need to proactively work with their employers to be available for their clinical placement 3-4 days a week, Monday – Friday. Students have the ability to submit a referral for potential placement sites, in addition to checking the status of their placement search 24/7 via the placement portal in the LMS. While we cannot guarantee meeting every placement request or utilize all placement referrals, specialists will make every effort to ensure students have rich clinical experiences that fulfill required hours.
The Vetting Process
Once a student and/or their placement specialist identifies a potential placement, the placement team initiates the vetting process, which includes validating the preceptor's credentials and processing all the necessary paperwork. We work diligently to ensure our clinical placements reflect the high standards set forth by Simmons School of Nursing.
Clinical Preceptors
For each placement, students will be matched with a clinical preceptor(s) who will help them develop a plan of action to meet the required clinical objectives. Preceptors assign patients consistent with the student's level of experience, supervise patient health assessments and treatment plans, and provide feedback on how the student can grow as a nurse practitioner.
The rigorous curriculum culminates in quality clinical experiences with highly qualified preceptors. In addition to the strong academic and clinical preparation needed to become skillful FNPs, students' development is also aided by the formal and informal support they receive from the Simmons community such as faculty, preceptors, classmates, placement specialists, and more.
Learn More About Clinical Placement Assistance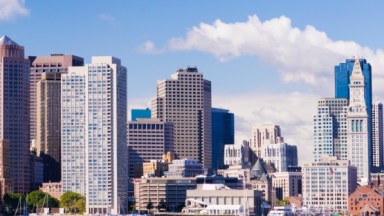 Campus Immersion in Boston
All Nursing@Simmons students travel to the Simmons School of Nursing campus in Boston, Massachusetts, to participate in a clinical immersion experience. This in-person, interactive experience is designed to complement online coursework and classes, and prepare students for the real-world practice they will encounter in their clinical placements. Students complete a physical assessment exam during the immersion and participate in a number of workshops and seminars.

In addition to learning and growing as future FNPs, students gain the opportunity to network and form lasting bonds with classmates and faculty.
Immersion Schedules
The on-campus Immersion Experience typically takes place over the course of three and a half days prior to the beginning of the first MSN placement term. Prospective students can view our sample immersion schedule here (PDF) for an example of the typical schedule of events. Please note that this schedule is a sample, and the final immersion schedule will be released as students get closer to their scheduled immersion weekend.
Physical Assessment
During the immersion, students are required to work with a partner to complete a head-to-toe physical examination, with the partner acting as the patient. During this examination, students conduct a systems-focused, physical assessment of various points of the body, assessing and evaluating the "patient's" symptoms, and identifying normal symptoms versus abnormal symptoms.
Clinical Seminars and Workshops
During the Immersion Experience, students also participate in seminars and workshops to prepare for success in their clinical placements.

In some of these workshops, students will move through stations in OSCE format (Objective Structured Clinical Examination). Faculty will supervise stations while providing instruction and feedback to student groups. Stations may include:
lab interpretation using case studies
EKG interpretation using case studies
exam findings interpretation using case studies
physical assessment skill building
general office procedures
pediatric assessment
In addition to OSCE stations, students attend and participate in the following:

Female GYN/Male GU Workshop: Students use model simulators to practice normal and abnormal female GYN and male GU skills. Faculty will circulate to aid in providing instruction and feedback to student groups.

Suturing and I&D Workshop: Students will handle suturing instruments and get the opportunity to practice multiple suturing techniques including suture removal in this hands-on workshop. Students will also have the opportunity to learn a variety of punch biopsy techniques as well as incision and drainage procedures.

Evidence Based Practice: Students have the opportunity to expand their knowledge of evidence-based practice by applying it to clinical practice examples in small-group discussions and presentations. This seminar will help students prepare for their Scholarly Inquiry I and II courses. They also take part in professional development activities such as writing CVs/résumés, building interview skills, scholarly writing, and creating long term professional goals.

Clinical Expectations & Typhon Seminar: Faculty will introduce Typhon, the electronic system that students use for logging their clinical hours and patient experiences. Faculty also give an overview on programmatic clinical requirements and expectations for placement and host a clinical placement Q&A session with our Nursing@Simmons student ambassadors.

During the Immersion Experience, students will learn and grow as future FNPs as well as have the opportunity to network and form lasting bonds with classmates and faculty. Students will also have the opportunity to attend a White Coat Ceremony.
Learn More About Nursing@Simmons'
Immersion and In-Person Experiences
Immersion Cancellation Policy: Simmons reserves the right to cancel or reschedule immersion experiences due to weather, enrollment, or other factors that may impact the overall student experience.