Earn Your Bachelor's in Marketing Degree Online With Simmons University
*Not accepting applications at this time
CompleteDegree@Simmons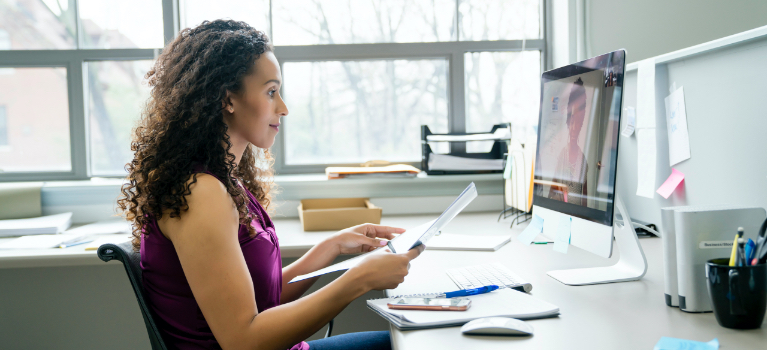 Do you want to learn how to make a greater impact on target markets — to understand potential consumers, explore how to persuade them, and discover new ways to reach them? As a student in our marketing bachelor's degree online program, you will gain a deep understanding of the most current technology, media platforms, and consumer behavior. Through close collaboration with your peers, you will analyze data and trends and use what you learn to craft powerful, effective marketing plans and campaigns.
In live, face-to-face online classes, Simmons faculty will share expertise and insights from their industry experience — delving into constantly evolving topics in the field such as marketing theory, branding, the global economy, changing technology, social impact, and corporate ethics.
Online Marketing Degree Program
Complete your BSBA in Marketing online at Simmons and gain the knowledge and skills you need to connect with consumers across a variety of industries — from competitive marketing agencies and businesses to health care systems, nonprofits, political campaigns, and more. Apply to join our next class of driven women for an empowering learning experience. 17+ prior college credits are required.
Application Requirements
Our application process is intentionally personal and holistic. We want to get to know you as an individual, as well as your past academic endeavors and your future potential.
Tuition and Financial Aid
Our online bachelor's degree programs are designed to break down barriers and make a high-quality undergraduate education accessible for the next generation of women leaders.
The Bachelor of Marketing Online Curriculum
128 credits needed to graduate
Up to 96 transfer credits accepted
The program curriculum includes required online marketing courses in areas such as marketing research, decision-making, consumer behavior, and strategic marketing management, plus electives that line up with a variety of industry roles. Our program is designed to help you grow as a confident and innovative leader and marketing expert.
Explore the marketing online degree program curriculum.
The Simmons Online Experience
Our immersive and engaging digital campus was developed based on years of research into effective online teaching and learning. Here, you'll work closely with Simmons faculty mentors, collaborate with bright and motivated peers, and grow your understanding of marketing and other business topics through interactive coursework.
Discover the Simmons online experience.
Where Can an Online Marketing Bachelor's Degree Take You?
As you complete your degree at Simmons, you will develop an understanding of the latest theory, technology, and strategy driving marketing tactics in shifting industries. Getting a marketing degree online will help you make an impact as a marketing leader and brand champion in any type of organization.
Ready to complete your marketing degree online with Simmons?
Complete the form below and prepare to shape your own personal brand.