Earn Your Bachelor's in Computer Science Online With Simmons University
CompleteDegree@Simmons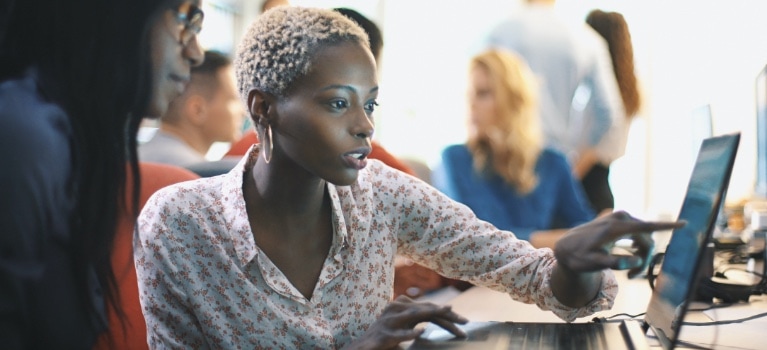 Computer scientists are problem-solvers. They develop advancements in areas as diverse as global communications, health care, public policy, scientific discovery and exploration, and climate change. As a student in our online computer science bachelor's program, you will learn to think critically, logically, and abstractly — to approach challenges creatively and scientifically as you work to make a positive difference in the world.
In live, face-to-face online classes with expert Simmons faculty, you will learn new methods for solving highly technical problems at the forefront of technology. You might write groundbreaking software, develop innovative websites, design next-gen apps or systems, or develop brand-new technology that improves people's quality of life in meaningful ways.
Apply to the Online Computer Science Bachelor's Degree Program
Complete your computer science degree online at Simmons and join the next generation of tech visionaries. Apply to join our next class of driven women for an empowering learning experience. 17+ prior college credits are required.
Application Requirements
Our application process is intentionally personal and holistic. We want to get to know you as an individual, as well as your past academic endeavors and your future potential.
Tuition and Financial Aid
Our online bachelor's degree programs are designed to break down barriers and make a high-quality undergraduate education accessible for the next generation of women leaders.
The Online Computer Science Degree Curriculum
128 credits needed to graduate
Up to 96 transfer credits accepted
The online computer science program curriculum includes core courses in areas such as information technology, software engineering, and programming — plus electives that line up with a variety of career interest areas. Our program is designed to help students build a rewarding career and use their technical knowledge and skills to positively affect organizations and communities.
Explore the online computer science program curriculum.
The Simmons Online Experience
Our immersive and engaging digital campus was developed based on years of research into effective online teaching and learning. Here, you'll work closely with Simmons faculty mentors, collaborate with bright and motivated peers, and expand your knowledge of computer science and technology through interactive coursework.
Discover the Simmons online experience.
Where Can an Online Bachelor's Degree in Computer Science Take You?
As you complete your degree at Simmons, you will gain an understanding of the underlying theories and concepts of computing, along with the skills you need to solve current and future technological challenges. Our graduates are well prepared for a diverse range of careers in programming, web development, applications development, software engineering, and other high-tech fields.
Ready to complete your BS in computer science online with Simmons?
Complete the form below and take your place at the forefront of tech innovation.