Earn Your Bachelor's in Health Care Policy and Management Online
CompleteDegree@Simmons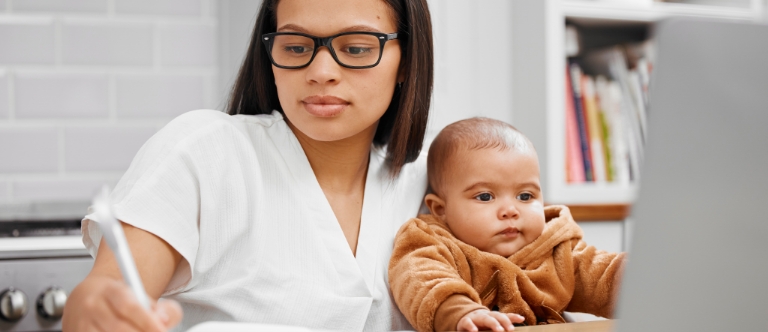 Prepare to make health care more equitable for individuals and communities. As a student in our online Health Care Policy and Management degree program, you will learn how health care systems and delivery structures work, examine inequities in the U.S. health care system, and discover how you can apply business best practices and your own innovative vision to change health care organizations for the better.
In live, online classes with expert Simmons faculty, you will explore the intersection of public health and business as you prepare to become a health care manager or administrator. Gaining the knowledge and skills you need to drive change in this evolving industry, you will focus on vital leadership topics such as cultural competency, diversity, equity, and inclusion.
Apply to the Bachelor's in Health Care Policy and Management Online Program
Complete your BS in Health Care Policy and Management online at Simmons and prepare to become an innovative health care leader. Apply to join our next class for a transformative learning experience.
Application Requirements
Our application process is intentionally personal and holistic. We want to get to know you as an individual, as well as your past academic endeavors and your future potential.
Tuition and Financial Aid
Our online bachelor's degree programs are designed to break down barriers and make a high-quality undergraduate education accessible for the next generation of women leaders.
Online Health Care Policy and Management Curriculum
128 credits needed to graduate
Up to 96 transfer credits accepted
The online health care policy and management curriculum is truly cross-disciplinary, created by faculty collaborating across the departments of public health and business. In live, online class sessions, you will develop skills in analytics, assessment, policy development, program planning, communication, and cultural competency. You will also build a strong foundation in basic public health practice and science, business finance planning, management, and effective leadership.
Our curriculum combines immersive classes and interactive coursework and culminates in a public health capstone project to help you gain confidence and competency for a variety of health care management and policy careers. Get to know some of our featured courses:
Health Care Finance (BUS 239) — Explore industry-specific financial management and business practices and become fluent in the issues, data, and concepts of financial decision making at health organizations.
Health Care Systems & Policy (PH 345) — Analyze the evolution of the U.S. health system and investigate the impact of social institutions on its structure, on policy choices, and on the provision and receipt of care.
Health, Illness, and Society (SOCI 241) — Explore social determinants of physical and mental health and become familiar with cross-cultural experiences of illness and seeking care.
Explore more health care policy and management courses online in our program curriculum.
The Simmons Online Experience
Our immersive digital campus was developed based on years of research into effective online teaching and learning. As an online health care policy and management student, you'll collaborate closely with faculty mentors and motivated peers and prepare to make a positive impact on an organization or the health care system as a whole. Within our welcoming community, you will build lasting connections with like-minded peers who may become future colleagues, confidants, and business partners.
As a Simmons online student, you will have access to many of the same types of opportunities as our on-campus students, such as online community groups, group learning experiences, and real-time discussion sessions with faculty and peers. You can also benefit from our virtual career center, where dedicated staff will help you develop career goals, search for jobs, finetune your resume and cover letter, prep for interviews, and be ready to confidently negotiate your salary.
Discover the Simmons online experience.
Where Can an Online Degree in Health Care Policy and Management Take You?
As you complete your undergraduate degree at Simmons, you will prepare for many types of health care policy jobs in management and administration. You will grow as a confident leader, able to drive lasting improvements that help organizations, communities, and individuals. You will graduate prepared to make a meaningful impact on the health care landscape.
Program graduates can work across at a wide variety of organizations, including:
non-profit settings
private practices
hospitals
insurance companies
public health institutions
government organizations
According to the U.S. Bureau of Labor Statistics, the median yearly pay for medical and health services managers was $101,340 in 2021. Demand for the role is projected to grow 32% between 2020 and 2030, far outpacing the national average.1
Ready to complete your health care policy and management degree online with Simmons?
Complete the form below and prepare to lead health care in a more diverse and equitable direction.
1Occupational Outlook Handbook: Medical and Health Services Managers (2021). Bureau of Labor Statistics. Retrieved August 2, 2022.arrow_upwardReturn to footnote reference