Earn Your Bachelor's in Communications Online With Simmons University
*Not accepting applications at this time
CompleteDegree@Simmons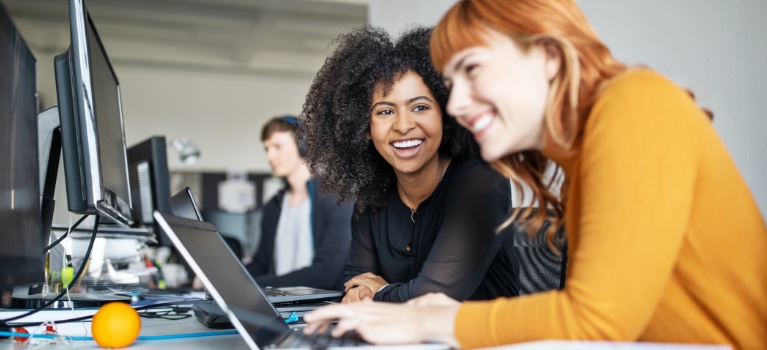 The tools of the digital communications sphere are constantly evolving. As a student in our online communications degree program, you will develop the skills you need to be an innovative, progressive media maker — whether you envision yourself authoring a digital publication, shooting or editing a video, designing a website, or creating social media content and strategies that make an impact.
In live, face-to-face online classes with expert Simmons faculty, you will explore the nuances of visual, written, and verbal communication across multiple platforms. As you examine how messages can generate meaning, you will focus on honing your vision and voice as a communicator.
Online Communications Bachelor's Degree Program
Complete your communications degree online at Simmons and gain the visual, creative, and technical skills you need to become a media leader. Apply to join our next class of driven women for an empowering learning experience. 17+ prior college credits are required.
Application Requirements
Our application process is intentionally personal and holistic. We want to get to know you as an individual, as well as your past academic endeavors and your future potential.
Tuition and Financial Aid
Our online bachelor's degree programs are designed to break down barriers and make a high-quality undergraduate education accessible for the next generation of women leaders.
The BA in Communications Online Curriculum
128 credits needed to graduate
Up to 96 transfer credits accepted
The online degree in communications program curriculum includes core courses in visual communication, media writing, and how media reflects and affects society — plus electives that line up with a variety of career interest areas. Our program is designed to help students think critically about media and learn how to share their stories with the world in a meaningful way.
Explore the online communications program curriculum.
The Simmons Online Experience
Our immersive and engaging digital campus was developed based on years of research into effective online teaching and learning. Here, you'll work closely with Simmons faculty mentors, collaborate with bright and motivated peers, and grow your understanding of the communications industry through interactive coursework.
Discover the Simmons online experience.
Where Can an Online Degree in Communications Take You?
As you complete your degree at Simmons, you will gain an in-depth understanding of concepts and theory, along with the practical skills needed to produce media content in a variety of professional settings. This balance will prepare you to adapt to rapid changes in technology and position yourself as a leader in your field. Graduates go on to roles in advertising, news, editing, event planning, social media, video production, public relations, design, content creation and management, and more.
Ready to complete your communications bachelor's degree online with Simmons?
Complete the form below and start growing as a media-savvy storyteller.