Celebrating Our Heroes: African-American Social Service Pioneers
This Black History Month, we want to recognize some of social work's most prominent African-American advocates from history. These five individuals were pioneers and leaders as both African Americans and social workers — pushing for legislative change and creating and leading organizations that have positively affected the lives of millions of people around the world.
Mary Church Terrell (1863–1954)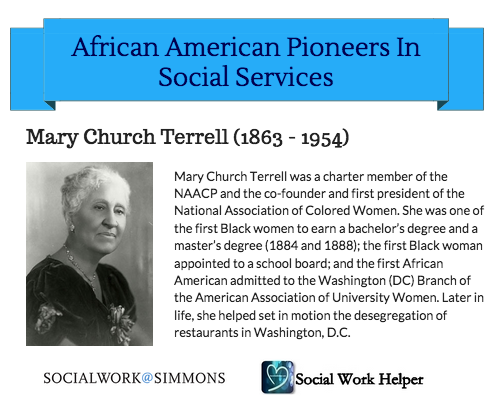 Mary Church Terrell was an early and lifelong advocate for women's suffrage and Black civil rights, a charter member of the National Association for the Advancement of Colored People, and the co-founder and first president of the National Association of Colored Women.
Terrell was a true pioneer for African Americans, and particularly for African-American women. The daughter of former slaves-turned-small-business-owners, she was one of the first Black women to earn a bachelor's degree and then go on to earn a master's degree (1884 and 1888); the first Black woman appointed to a school board; and the first African American admitted to the Washington (DC) Branch of the American Association of University Women.
Late in her life, she helped set in motion the desegregation of restaurants in Washington, D.C., and was able to witness the passing of Brown v. Board of Education before her death. Her home in Washington, D.C., is now a National Historic Landmark.
George Edmund Haynes (1880–1960)
George Edmund Haynes was co-founder and first executive director of the National Urban League, one of the first Black men to have influence at the cabinet level of government and a lifelong social worker and educator.
In 1910, Haynes was the first African American to graduate from the New York School of Philanthropy (now the Columbia University School of Social Work). During and after his studies, he was one of the leaders in uniting several associations and committees working toward Black civil rights to create the National Urban League. He went on to work as a special assistant to the secretary of labor (under the title of director of Negro economics), making him one of the two highest ranking Black federal employees and the first African American to have influence at the cabinet level.
After retirement, he continued advocating and teaching as a professor at City College of the City University of New York and a board of trustees member of the State University of New York (SUNY) system.
Sources: NASW Social Work Pioneers, BlackPast
Thyra J. Edwards (1897–1953)
Thyra J. Edwards was a lifelong social worker with a multinational focus on helping the disadvantaged,
at-risk populations, and women and children.
She began her career as a social worker in Chicago and quickly diversified her skills as a lecturer, women's rights advocate, labor organizer, and journalist — all in support of her social work goals. After WWII, she became the executive director of the Congress of American Women and organized the first child care program in Rome to assist Jewish survivors of the Holocaust.
Edwards was one of the first Black American civil rights advocates to turn her attention to the struggles of Black people around the world. She advocated for people of all races, nationalities, and ethnicities, and worked internationally until her death in 1953.
Lester Blackwell Granger (1896–1976)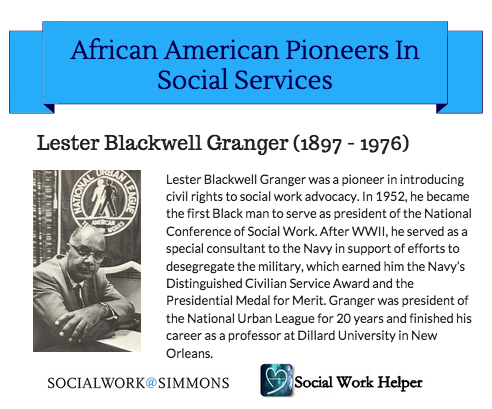 Lester Blackwell Granger was an early pioneer in introducing civil rights to social work advocacy, leading efforts to integrate white unions and the military, and pushing President Dwight D. Eisenhower for civil rights reforms.
As a young man, Granger was a high school teacher and a social worker. In 1952, he became the first Black man to serve as president of the National Conference of Social Work, and he used this position to campaign internationally for civil rights reform. After WWII, he served as a special consultant to the Navy in support of efforts to desegregate the military, which earned him the Navy's Distinguished Civilian Service Award and the Presidential Medal for Merit.
In 1958, he was one of four civil rights activist leaders, including Martin Luther King Jr., to meet with President Eisenhower to discuss civil rights reform. Granger was president of the National Urban League for 20 years and finished his illustrious career as a professor at Dillard University in New Orleans.
Source: Yale University Library, NASW Social Work Pioneers
Dorothy Height (1912–2010)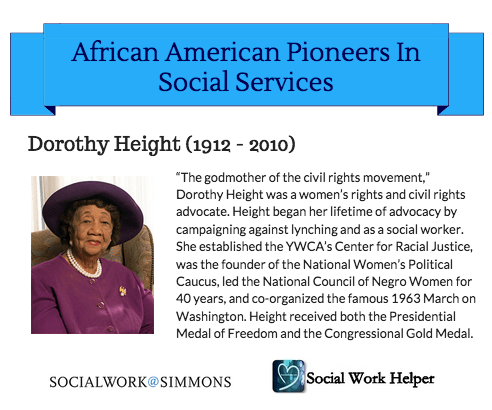 "The godmother of the civil rights movement," Dorothy Height was a women's rights and civil rights advocate, who was instrumental in the advancement of the rights of Black Americans, and Black women in particular.
Height began her lifetime of advocacy by campaigning against lynching and as a social worker. She quickly became a prominent civil rights advocate, establishing the YWCA's Center for Racial Justice, founding the National Women's Political Caucus, leading the National Council of Negro Women for 40 years, and co-organizing the famous 1963 March on Washington. Throughout her life, she campaigned internationally for women's rights, traveling to Mexico, India, and many countries in Africa.
For her lifetime of civil rights achievements, Height received both the Presidential Medal of Freedom and the Congressional Gold Medal, among many other awards and honorary degrees.
Source: Biography
These are just some of the many influential African-American social workers who spent their lives advocating for social justice and civil rights. Ultimately, many of their initiatives succeeded, but there is still much to improve upon, and social workers are capable of making the changes our society needs. In honor of Black History Month, reach out to let us know what influential social workers or Black leaders have had an impact on your vocation to be a social worker.
A very special thanks to Deona Hooper of Social Work Helper for inspiring this piece and advising us on its creation!