End of Life Care: The Impact of Options and Costs
The phrase, "end-of-life care," can include a variety of options in regard to care settings and levels of care being received. The cost of this care can overwhelm the patient and their family at an already sensitive time, making planning for these expenses essential. Without advanced planning, individuals can end up spending their finals days in settings they would not have chosen, receiving care they did not necessarily want. End-of-life care options fluctuate in cost, and research shows that understanding your options has a positive impact on time and care quality and decreases expenses.
End-of-Life Terminology
When preparing for end-of-life care, it's common to run into terms you may not recognize. Some of the unfamiliar terms may refer to the setting itself, discussed in depth below, but it's also important to understand the following terms to make educated decisions.
Hospice Care
Must have a life expectancy of six months or less: although this may be re-evaluated and renewed, every six months, if the patient desires.
Focus is on comfort care, not curative care
Always includes palliative care
Palliative Care
Pain and symptom management for anyone facing severe illness
Can be independent of hospice care
Focus is on comfort care and also supports curative care if needed/desired
Advance Directives
Documents to provide guidance regarding desires for future care
Include a living will and designation of a health care proxy
A Do Not Resuscitate (DNR) order is not the same as a living will
Medicare/Medicaid Hospice Benefit
Qualifying patients are eligible
Covers all care, medications, and equipment related to the admitting diagnosis
Traditional Medicare/Medicaid benefit still available for other needs
End-of-Life Options
There are numerous locations where individuals choose to receive end-of-life treatment. The decision on location often depends on the care the patient requires and what the patient or family can afford. In many cases, family members may end up making decisions for an ill parent or spouse, and in those situations it can help to know your options. Click the tabs below to learn more about these common end-of-life care solutions.

In-Home Care
PATIENT PROFILE
Needs assistance with a variety of care and/or medical needs
Has adequate resources to remain at home
Autonomy and independence are highly valued
Amount of external support required is dependent upon:

Health status
Goals for care
Presence of a caregiver and ability to provide care
KEY FACTS
Care support may include:

Home health agencies
Professional caregivers
Community-based hospice programs
Community-based palliative care programs
Family members

Care needs may include:

Assistance with activities of daily living
Companionship
Transportation
Various medical needs, such as assistance with medications

Payment sources are dependent on care needs and eligibility. Payment sources include:

Medicare/Medicaid
Private and/or long-term care insurance
Veterans Administration
Patient/family resources
COST CHANGE OVER TIME (source)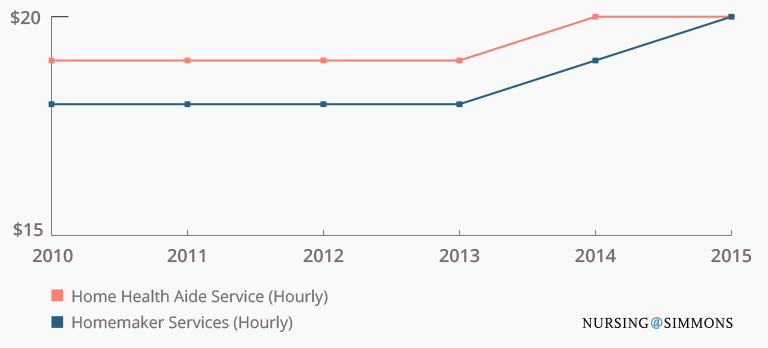 Hospice Care
PATIENT PROFILE
Individual who has been diagnosed with a terminal illness, certified as having a life expectancy of six months or less
May receive care in various settings:

Hospital
Home
Long-term care facility
Freestanding hospice house

Focus on comfort care, not curative care
Palliative care always an essential component of hospice care
KEY FACTS
Payment sources include:

Medicare/Medicaid hospice benefit (if a certified hospice provides care)
Private insurance
Patients/families (minimal, usually sliding scale payments, if at all)
Hospices cannot refuse care based on inability to pay
COST CHANGE OVER TIME (source)

Hospital Inpatient Care or General Inpatient Hospice (GIP)
PATIENT PROFILE
Acutely ill individuals who require frequent intervention and/or monitoring
Levels of care range from intermittent (general nursing floor) to continuous (intensive care unit)
KEY FACTS
More patients are spending some part of the last month of life in the ICU.
Palliative care teams are often available, as consults or within palliative care units.
COST CHANGE OVER TIME (source)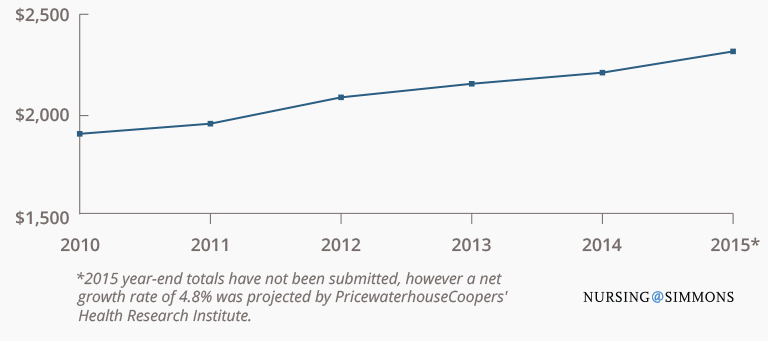 Hospital costs to Medicare/Medicaid, charted above, have increased significantly.
Out-of-pocket costs to patients/families remain minimal and unchanged.

Long-Term Care Facility
PATIENT PROFILE
Assisted living facilities

Assistance with activities of daily living
Assistance with some skilled needs
Must meet certain criteria of independence to qualify

Skilled nursing facilities

Comprehensive care for more complex needs
Short-term rehabilitation care after hospitalization
KEY FACTS
About 70% of Americans over the age of 65 will use some form of long-term care.
On average, women will more often use a long-term care facility than men because of their longer average lifespans.
Payment support sources include: Long-term care insurance, Medicare (rehabilitation care only), Medicaid (covers room and board if eligible)
COST CHANGE OVER TIME (source)
Palliative Care
PATIENT PROFILE
Individuals with severe illness who require pain and symptom management
May receive care in any setting
Focuses on comfort care and supports curative care, as needed/desired
KEY FACTS
Multidisciplinary approach to pain and symptom management
Comprehensive treatment options available
Palliative care experts skilled in discussing end-of-life issues, including goals for care and advance directives
Palliative care models include:

Hospital-based consult teams
Inpatient palliative care units
Community-based palliative care programs
IMPACT: DECREASED COSTS
Palliative care patients are less likely to be in the ICU, which decreases costs.
Numerous studies show decreased inpatient costs with palliative care.
There is a potential annual costs savings of $6 billion if palliative care is fully implemented in U.S. hospitals.
Summary
End-of-life care planning and effective communication can help individuals get the care they need in the setting they want. Cost is a significant factor in most end-of-life care decisions, so it's essential to understand all of the options before making an informed choice. Use this tool to evaluate your alternatives, and speak with your primary care provider to determine the best setting based on your needs.
Resources
These resources can help you further navigate your end-of-life care options: