BehaviorAnalysis@Simmons Faculty Spotlight: Kylan Turner, PhD, BCBA-D, LBA
Kylan Turner is an associate professor of practice in the BehaviorAnalysis@Simmons program. Specifically, she teaches the following courses to aspiring behavior analysts: Methods 1 (BEHVO 427), Ethics and Legal Issues (BEHVO 430), Verbal Behavior (BEHVO 465), and Autism Spectrum Disorders (BEHVO 466). Below, Kylan shares her experiences in the field and as a faculty member to help provide a sneak peek into the Simmons program and the behavior analysis field.
What led you to pursue applied behavior analysis as a career?
I learned about applied behavior analysis (ABA) after meeting children who have autism when I was in high school. I was fascinated by the diagnosis and how the implementation of ABA helped individual learners develop functional skills and decrease challenging behaviors. From that point on, I wanted to learn as much as I could and continued to study and train across different areas of the field.
Describe your research interest or area of expertise within the field.
My research interests include evaluations of behavioral interventions with the goal of identifying the most effective treatments for children with autism. Specifically, I specialize in the development of behavioral interventions provided through parent training to address the widely prevalent sleep and feeding behavior problems in children with autism. I have also had the opportunity to conduct clinical research internationally and have developed an additional research agenda around translating and adapting the delivery of ABA curricula to underserved populations.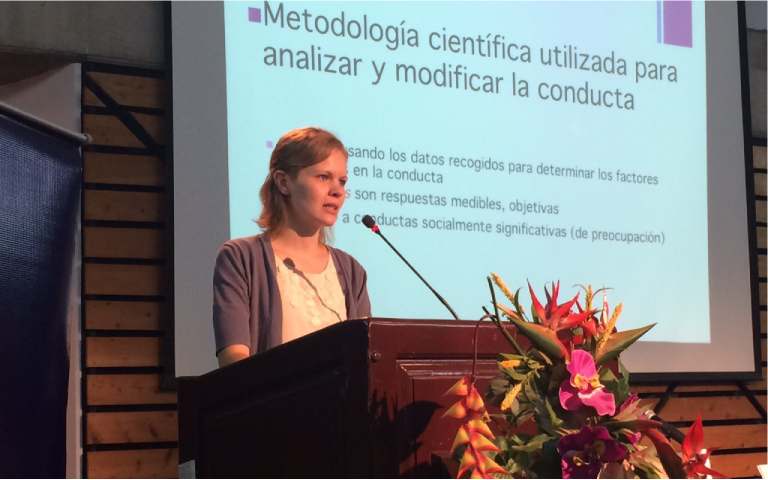 Kylan Turner speaking in Costa Rica on autism interventions and direct applications of ABA.
Why did you decide to teach at Simmons?
The behavior analysis department at Simmons is very well known in the field. I had spent years during and after my own educational career following the published work and conference presentations of various faculty members at Simmons and had long known it was a distinguished program. When the opportunity arose to apply for a faculty position, I jumped on it. Once I met the faculty and experienced a bit of the culture at Simmons during my interview, I found it to be such a genuinely warm and welcoming place. I couldn't imagine ever wanting to work anywhere else. Everyone I met at Simmons appeared happy to be here and eager to do good work. I feel lucky and honored to have the opportunity to work in this department and teach such a reliably strong group of students.
Kylan Turner on an airfield in Costa Rica.
Describe a professional accomplishment that you are most proud of.
I moved to Costa Rica in 2013 to focus my research on service delivery models of ABA in developing countries. In 2014, I taught the first-ever ABA course to professionals seeking continuing education in autism intervention at La Universidad de Costa Rica. Translating the curriculum and practicing lecturing using technical language in Spanish (a language I'd not spoken since high school) was a challenging and, at times, onerous task. Fortunately, I had the help of an amazing tutor and local professionals to assist me.
After all that hard work, sharing the principles and concepts and direct applications of ABA to educators, psychologists, and related service professionals in the country was extremely rewarding. I also was able to develop a parent training curriculum, which I delivered in community centers and churches across the country. Hearing families report that the information they learned and coaching they received helped them improve their children's behavior to the point of being able to include them in school and community activities again was a major highlight of that work. I doubt I will ever find a more professionally rewarding experience than being able to help a community of people become more effective at helping the most vulnerable among them.
What is your teaching philosophy and style?
I aim to first show students I respect them and their approach to learning. As an individual who went through graduate school already, I try to focus on my awareness of what motivated, challenged, and intrigued me as a student; when appropriate, I share that with my classes and invite them to share with me more about their experiences. Seeking a graduate school education is not an easy feat, and I have genuine respect for all that my students juggle and seek to balance across their lives. Therefore, the core principle to my teaching philosophy is to respect the learner and find out as much as I can to support each student in my courses.
Also, as I am teaching a course, I try to set my expectations high enough so that each student is stretched just beyond their comfort level, but they each have been given enough support to consistently meet those expectations. Finally, I believe what makes a great behavior analyst is the ability to think critically to solve novel problems. Simply being able to rattle off terms and explain basic concepts and principles is not enough to solve the types of problems we encounter in our work. Therefore, I believe that in every course I teach, students need to be confronted with case scenarios and "tricky issues" to really practice — and master — what will be expected of them once they graduate from our program.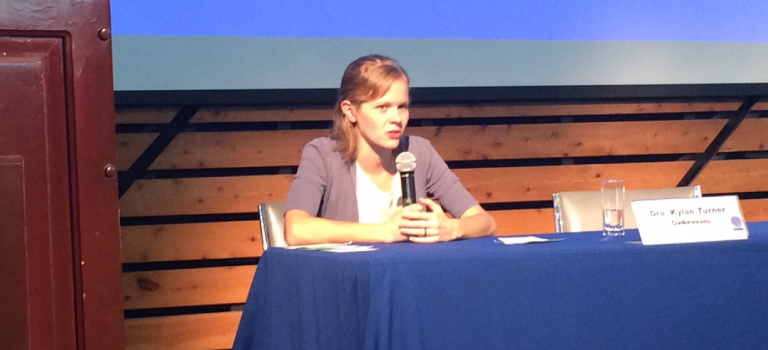 Kylan Turner speaking in Costa Rica on autism interventions and direct applications of ABA.
What is your favorite class to teach and why?
To me, the group of students is what makes the work of teaching engaging, enlightening, and fun. After having taught at multiple institutions in this capacity, I can honestly say that students in our program tend to be very bright, passionate, and hard working. That said, if I needed to choose, I would say I greatly enjoy teaching Ethics and Legal Issues due to the rich discussions we always end up having in our live sessions. My second favorite course to teach is Verbal Behavior, because the topic is one of my favorites and I genuinely get excitement out of seeing students at the end of the program (when they're in their final semester). It's highly enjoyable to see how much students have mastered, how they have evolved professionally following mentoring and supervision, and how confident they have become. By the time they reach that course, we are able to elevate the complexity of our discussions.
Why should a student earn a master's in applied behavior analysis at Simmons?
I think an individual should study in our program because it is well established and has a long track record of delivering the curriculum and mentorship that a highly trained behavior analyst is expected to have. Students in our program are taught the critical thinking skills expected of those who are scholars and practitioners applying the science of behavior analysis in the field.
In addition to the rigorous curriculum and training model of this program, students can expect to be taught by faculty who are not only experts in their respective research areas, but who also carry many years of experience working clinically. Finally, these faculty members are seasoned behavior analysts who approach teaching adults in a graduate program by applying behavior analytic principles in the classroom. The expectations in this program are high, but we aim to provide students with the tools to reach them consistently throughout the program.
What advice would you give to a prospective student considering the BehaviorAnalysis@Simmons program?
I would recommend that you reach out to the admissions team to connect with current students and alumni and also attend the various webinars offered throughout the year. These are great ways to talk with real people connected to the program and find out all the information you need.
Citation for this content: Simmons University's online master's in behavior analysis program