The Frontlines of Intimate Partner Violence
Domestic and intimate partner violence are public health epidemics encompassing the emotional, financial, psychological, physical, or sexual abuse of a partner or family member. While the data is largely underreported, the most recent study, published in 2017 on 2010–2012 estimates, claims that more than 27 percent of women experience intimate partner violence and one in 19 men experience stalking at some point during their lifetime (PDF, 4.3 MB). Identifying intimate partner violence early can help prevent lasting emotional or physical injury and save lives.
Most cases of intimate partner violence go unreported for a variety of reasons — including fear, threats, coercion, or a lack of resources to survive without the support of their abuser. Partners may also love or hold a deep attachment to their abuser and make excuses for his or her behavior.
Accurate abuse rates are difficult to ascertain due to the low number of reported cases, but researchers estimate between 3.3 million and 10 million children in the United States will witness domestic violence in their home. Only about 2 percent of abusers are incarcerated External link for their crimes.
Despite the many factors that hinder disclosure of domestic or intimate partner violence, those who work in health care can be instrumental in its identification. These experts are trained to collect detailed histories, assess patients holistically, and develop treatment plans that address more than physical needs — opening the door for therapeutic communication and building trust between patients and providers. Doctors of Nursing Practice in particular are experts on the referral network for those in need of support and guidance in times of crisis or change in their lives.
What Are the Types of Abuse?
There are various kinds of abuse one can experience with an intimate partner, several of which were defined and measured in a recent study by the CDC's National Intimate Partner and Sexual Violence Survey (NISVS). They include:
Intimate partner violence can mean physical or sexual abuse, stalking, psychological aggression (including coercive tactics), and control of reproductive or sexual health by an old or new partner.
Physical violence encompasses several behaviors, ranging from slapping, pushing, or shoving to punching, kicking, hair pulling, choking, beating, intentional burning, or use of an instrument, knife, or gun.
Contact sexual violence includes rape, being made to penetrate someone else, sexual coercion, and unwanted sexual contact. One can experience sexual violence, even if it is noncontact in nature.
Psychological aggression includes expressive aggression (such as name calling or humiliation) and coercive control, which are behaviors that are intended to monitor, control, or threaten.
Control of reproductive or sexual health is the refusal to use a condom to prevent a sexually transmitted disease or attempts by either a man or a woman to coerce and force an unwanted pregnancy.
Stalking involves a pattern of unwanted harassment or threats that results in fear or safety concerns.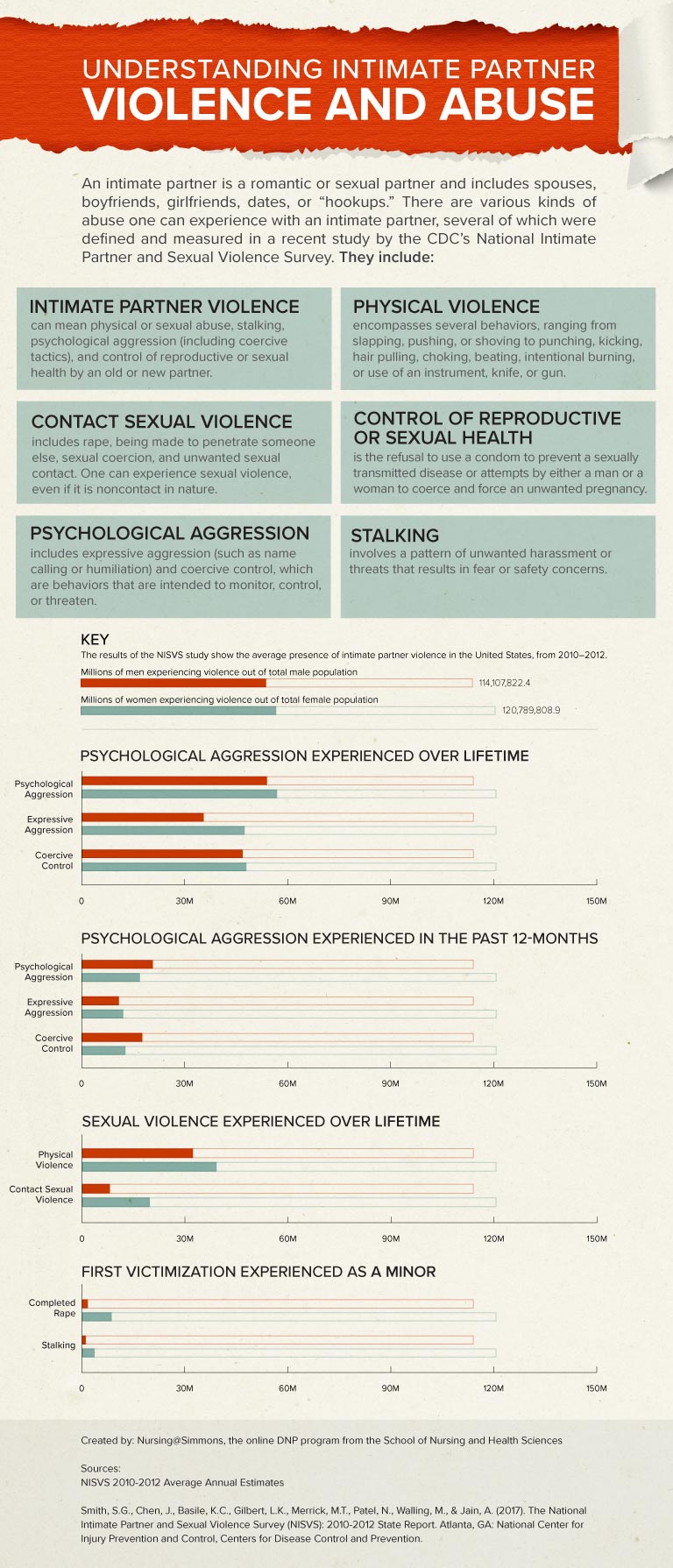 The CDC's National Intimate Partner and Sexual Violence Survey (NISVS) measured and defined the various kinds of abuse. According to the study, women and men experience similar rates of psychological aggression over a lifetime (47.1-47.3 percent), however rates of expressive aggression differ. Over 30 percent of men reported experiencing aggression over their lifetime, as opposed to almost 40 percent of women.
Go to a tabular version of data about the presence of intimate partner violence in the United States.
How Does Abuse Affect Development?
Intimate partner violence affects men, women, and children in profound and lasting ways. Risk of physical assault is not the only consideration since children who witness abuse are likely to experience lasting effects, ranging from depression to disruptions with schoolwork, according to a nationwide study by the American Psychological Association.
Violence in the home can trigger a variety of short- and long-term problems for children that can carry through to adolescence and adulthood. The risk of dual exposure (both witnessing violence and being abused themselves) is higher in these homes and creates further complications for its young victims. Simply hearing a verbal threat can be enough for children to feel fearful for themselves and the parent who is being abused.
Children and adolescents will display signs and symptoms of abuse differently, depending on the severity of the abuse and how their caregivers respond to it. These symptoms may also be associated with other types of stress or developmental issues, and each case should be evaluated individually. According to the U.S. Department of Justice's National Child Traumatic Stress Network (PDF, 4.1 MB), responses to violence may also vary according to the child's stage of development.
Birth to 5 years: Changes in sleeping or eating habits, profound separation anxiety, inconsolable crying, reverting to earlier behaviors from a younger age, intense anxiety, aggression, or impulsiveness
6 to 11 years: Nightmares, aggression that results in troubled relationships with friends, emotional withdrawal or numbness, and school absence
12 to 18 years: Impulsive behavior like running away or substance abuse, self-destructive habits like "cutting," emotional withdrawal and other antisocial behavior, and involvement in their own abusive relationship
How to Support Those Experiencing Violence
For those exposed to domestic violence, getting help can be a long and difficult journey. Adults report lack of transportation, too much paperwork, or fear their children will be removed from the home as just a few of the reasons they do not seek assistance.
For children, finding help is even more difficult. Often called the "hidden victims," children who witness violence may be reluctant to ask for support since they are concerned they will offend a parent and are unsure about how to talk about what they are seeing.
It is important to be mindful of abuse and watch for obvious and subtle indicators. Most people will not openly volunteer information about intimate partner violence, which means health care professionals should have solid assessment skills and approach the subject in a sensitive and non-confrontational way.
All states in the United States require some form of mandatory reporting to law enforcement (PDF 652, KB) when intimate partner violence is identified, and under HIPAA it is legal to report cases without patient consent. This raises patient anxiety about disclosing information and compounds the need for nurses to establish a rapport with patients so they feel comfortable and secure enough to speak openly.
Health care providers should never ask patients about abuse in front of their partner and should ensure that a private area is available before discussing the topic. Providers also evaluate the following during patient care:
What is the overall behavior between the patient and partner during the visit?
Is there current or past depression, anxiety, or signs of chronic fatigue?
Is there a history of substance abuse for the patient and/or partner?
Are there signs of bruising that do not match the explanation?
Is there a history of broken bones?
Are there any loose teeth?
Are there signs of patient fear from his or her partner?
Is the partner dominating the visit, speaking for the patient, or refusing to be separated from him or her during the exam?
There is also value in better understanding the types of abusive and violent behaviors their patients have been exposed to. Because symptoms of intimate partner abuse aren't always visible, it is useful to understand different types of abuse, which include:
Intimidation
Coercion and threats
Male privilege
Economic abuse
Using children
Minimizing, denying, and blaming
Isolation
Emotional abuse
Resources for Those Affected by Domestic Abuse and Intimate Partner Violence
Today, police departments, schools, and nonprofits are working to identify those who have witnessed abuse. Social work and health care professionals are trained to treat the signs and symptoms of domestic and intimate partner violence and offer assistance to those seeking help.
If you or someone you know is experiencing abuse, it may be difficult to know what to do. The National Domestic Violence Hotline has highly trained advocates available 24/7 to give you anonymous and confidential help in both English and Spanish. Call 1-800-799-7233 or visit The National Domestic Violence Hotline website.
The following section contains tabular data from the graphic in this post.
Presence of Intimate Partner Violence in the United States, 2010-2012 arrow_upward
Psychological Aggression Experienced Over Lifetime
| Gender | Psychological Aggression % | Expressive Aggression % | Coercive Control % |
| --- | --- | --- | --- |
| Men | 47.3 | 31.1 | 41.1 |
| Women | 47.1 | 39.3 | 39.7 |
Psychological Aggression Experienced in the Past 12-Months

| Gender | Psychological Aggression % | Expressive Aggression % | Coercive Control % |
| --- | --- | --- | --- |
| Men | 18.2 | 9.5 | 15.4 |
| Women | 14.1 | 10.1 | 10.4 |
Sexual Violence Experienced Over Lifetime
| Gender | Physical Violence % | Contact Sexual Violence % |
| --- | --- | --- |
| Men | 28.3 | 7 |
| Women | 32.4 | 16.4 |
First Victimization Experienced as a Minor
| Gender | Completed Rape % | Stalking |
| --- | --- | --- |
| Men | 1.3 | 0.8 |
| Women | 7 | 2.9 |
Sources:
NISVS 2010–2012 Average Annual Estimates
Smith, S.G., Chen, J., Basile, K.C., Gilbert, L.K., Merrick, M.T., Patel, N., Walling, M., & Jain, A. (2017). The National Intimate Partner and Sexual Violence Survey (NISVS): 2010–2012 State Report. Atlanta, GA: National Center for Injury Prevention and Control, Centers for Disease Control and Prevention.
Citation for this content: Nursing@Simmons, the online DNP program from the School of Nursing and Health Sciences