Understanding the Psychological Effects of Breast Cancer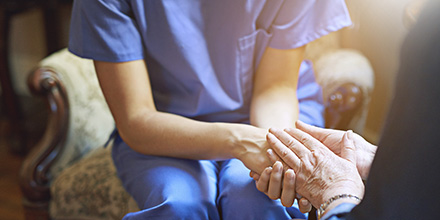 In the United States, more than 230,000 women and approximately 2,600 men receive a breast cancer diagnosis each year. Given the urgent demands of treatment, it can be easy for primary care providers, like Family Nurse Practitioners, to focus on physical aspects of care when a diagnosis occurs.
However, addressing the physical demands of the disease is just one part of a comprehensive treatment regimen for breast cancer; treatment must account for patients' psychological needs as well.
The link between physical and psychological health, particularly as it pertains to breast cancer, is well documented. According to studies cited by the American Psychological Association (APA), mortality rates were found to be nearly "26 times higher in patients with depressive symptoms and 39 times higher in patients who had been diagnosed with major depression." Additionally, a "decrease in depression symptoms was associated with longer survival in patients with metastatic breast cancer." Though people respond differently, patients who receive a cancer diagnosis often experience a number of common emotions, including various levels of stress, anxiety, and fear related to uncertainty about what the future holds and self-image. Such emotions have a significant impact upon psychological health. A comprehensive literature review published in Seminars in Oncology Nursing concluded that psychological health in cancer survivors was "determined by the balance between two classes of factors: the stress and burden posed by the cancer experience and the resources available for coping with this stress and burden."
Patients with breast cancer may also experience common responses that are unique to this diagnosis. Even though breast cancer treatments are less invasive than in the past, regimens such as intensive chemotherapy and radiation can take a longer period of time to conduct. Treatments that drain time and energy can make it hard to enjoy socializing, favorite activities and important family-related tasks, such as childcare and caregiving. Many patients experience difficult changes related to sexual function, such as lower libido and, for women, early menopause. Breast cancer diagnoses that require drastic surgical steps, such as a mastectomy or other body-altering procedures, can have a prolonged impact on a patient's body image and sense of self.
Navigating the logistical and financial aspects of treatment, whether addressing complicated insurance and payment questions or making difficult decisions regarding various treatment plans, can additionally contribute to stress and overwhelm patients as they map the course of action that best suits their lifestyle and needs.
Many of the issues that are associated with breast cancer are often exacerbated, and at times contribute to, the physical toll of the disease itself. It is essential to equip providers with the knowledge and skills that address patient's needs beyond the physical. Below we will focus on the value of providing comprehensive care for breast cancer patients, as well as various ways that providers can focus on a patient's psychological needs associated with the disease.
The Need for Comprehensive Care
Considering the significant role psychological factors can play in patients' overall well-being, it is essential that a comprehensive treatment regimen include appropriate levels of screening and support to address the psychological needs of patients diagnosed with breast cancer. As Dr. Georita Frierson, director of Clinical Training for the Clinical Psychology PhD Program at Rowan University, notes in a PsychCentral resource, "Breast cancer is more than skin deep. It's not just about your external body image. It's not just about secondary sexual characteristics. It's not just about breasts. It's more than that … The psyche and the physical body are interconnected, so you really can't address one and not the other."
A 2008 clinical trial published in Cancer reported similar findings: Breast cancers patients who participated in psychologist-led small group sessions offering strategies for dealing with stress, mood concerns, health-related behaviors and treatment adherence had a 45 percent lower risk of cancer recurrence and a 56 percent lower risk of breast cancer-related mortality. In the analysis, the more active participants' risk of breast cancer mortality was 68 percent lower.
It is also important to keep in mind that the need for psychological support doesn't end when medical interventions are completed, or cancer is in remission. Patients may recover physically much sooner than they do emotionally, and societal pressures to return to "normal" can make emotional recovery even more difficult. In fact, a recent study suggests that "a majority of patients diagnosed with breast cancer go on to develop symptoms of post-traumatic stress disorder, and in most of these cases the symptoms persist for at least a year." The authors suggest that providers "be made aware of the fact that the majority of breast cancer patients develop symptoms of post-traumatic stress subsequent to diagnosis, and need to receive the appropriate [counseling] support."
How Providers Can Help
There are a number of things that providers, including Nurse Practitioners, can do to help patients manage the psychological effects of a breast cancer diagnosis and treatment. Below, we've outlined several resources and suggestions to help providers understand some of the first steps they can take to help patients who may be in need of psychological support:
The following resources can help providers regularly working with patients whose breast cancer diagnoses may be negatively affecting their psychological well-being:
Patients with breast cancer need a comprehensive and holistic approach to care that goes beyond physical treatment and includes support and intervention related to psychological needs. Trained to understand all of the factors that could compromise or improve a patient's care, Nurse Practitioners are in a unique position to understand these patients' needs and provide the specialized care they require.
We would like to hear from you. Did we miss a great resource for patients or providers that should be included here? Let us know via Twitter or Facebook.