Preventive Health Care: The Role of Nurse Practitioners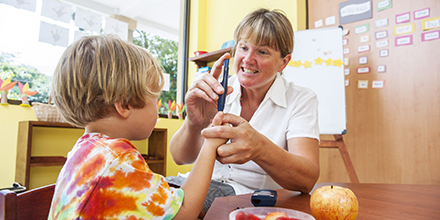 Seven out of 10 deaths in the United States are due to chronic disease such as cancer and Type 2 diabetes, according to the Centers for Disease Control and Prevention (CDC). Many of these conditions are preventable. Studies have shown that evidence-based preventive care services can improve health by identifying risk factors for poor health outcomes sooner and addressing them before they become complicated and potentially debilitating. This active approach to care also helps lower costs for health care systems and patients alike.1
Preventive care services include regular check-ups, vaccinations against diseases, counseling on important health topics (e.g., smoking cessation), cancer screenings (e.g., mammograms), and routine screenings such as those for blood pressure and cholesterol levels.2
Prevention improves entire communities by helping people live longer, healthier lives. Healthy children have more days in attendance at school and an easier time participating and learning. Adults spend more time working and are productive in the workplace. Seniors who stay healthy are able to maintain their autonomy for longer and enjoy a greater sense of well-being. Racial and ethnic minorities in particular stand to benefit from preventive care, as they exhibit higher rates of chronic disease.3
Policymakers recognized that finances prevent some people from seeking preventive care. That is why the Affordable Care Act (ACA) of 2010 mandates that private health plans provide coverage for an array of preventive services. The ACA has helped to improve access to care by expanding health insurance coverage to those who did not previously have it.4
How NPs Can Make an Impact on Disease Prevention
Nurse Practitioners (NPs) have the potential to play a significant role in preventive care, which has traditionally been provided by primary care physicians. Most NPs — up to 90 percent — are prepared in primary care and can manage 80 percent to 90 percent of the care provided by physicians.6 Moreover, while physician education focuses on diagnosis and treatment, NP training concentrates more on holistic care for individual patients, families and communities. NPs also play an important role in prevention and health promotion across the lifespan. This makes NPs uniquely positioned to influence patient behavior by developing strong, trusting, long-term relationships. Through one-on-one dialogue, NPs can empower individuals to make better health choices and make lifestyle changes that help prevent chronic disease.5
The settings in which NPs practice can help expand preventive care to those who need it most. Research shows that Nurse Practitioners specializing in primary care are more likely than primary care physicians to practice in urban and rural areas. NPs are also more inclined to care for uninsured patients and other at-risk groups.6 NPs work in a variety of settings, such as community health clinics and in-store or standalone urgent-care clinics, where patients can quickly be treated for an array of episodic illnesses. Other practice locations include college campuses, worksite health centers and independent clinical practice environments.
The role of NPs in preventing illness and disease can also extend beyond the exam room into the community, where they play a valuable part in health promotion, education, and advocacy. As an example, American Association of Nurse Practitioners member Lt. Meg Whelpley recently discussed her trajectory with Daily Nurse. Whelpley went from bedside nurse to officer in the Commissioned Corps of the U.S. Public Health Service. In her current role, she serves as an NP with the National Heart, Lung, and Blood Institute at the National Institutes of Health (NIH). Her responsibilities range from evaluating patients enrolled in research protocols to administering cardiac evaluations for underserved populations in surrounding areas.
A Case for Greater Use of NPs
Americans are growing older, living longer, and gaining health insurance coverage in increasing numbers, but the supply of physicians is not meeting the demand for services. According to a report by the Association of American Medical Colleges (AAMC), the United States will face a major physician shortage by the year 2025. In terms of primary care specifically, this shortage could reach up to 31,000 physicians.7 These projections, however, are based on traditional health care delivery models. They don't account for the potential of NPs to play a role in providing preventive services.
Research proves that Nurse Practitioners are just as qualified as physicians to provide comprehensive care — and patients agree. One study from the University of Michigan found that satisfaction scores among low-income patients for Nurse Practitioners were notably higher than for physicians. The study looked at questionnaires completed by low-income patients enrolled in a community public health care plan. Eighty percent of respondents felt that NPs always listened carefully to their needs. Other questions pertained to how much respect providers showed to patients. Physicians scored an average of 7.2/10 on the survey, while NPs had an average score of 9.8/10.8
NPs who specialize in primary care have the capacity to reduce the strain on our already burdened health care system. Yet legislative and regulatory barriers in many states, such as licensure laws and "scope of practice" policies, limit the services provided by NPs and prevent them from practicing to their full potential.6 These are barriers that must be addressed sooner rather than later, or we will continue to undervalue an invaluable NP workforce.
As the United States moves forward under the new Trump administration, the future of the ACA remains unclear. However, regardless of how change unfolds, NPs will remain crucial players in the U.S. health care system. It will be important to ensure that these professionals have the opportunities and resources necessary to improve preventive health measures on a variety of levels — and in so doing, highlight the importance of preserving health rather than simply treating illness. Allowing advanced-practice nurses to leverage the full breadth of their training can lead to a comprehensive, equitable health care system that meets the needs of every citizen.
How have you seen Nurse Practitioners make a difference in health promotion? Let us know via Twitter or Facebook.
http://www.cdc.gov/healthcommunication/toolstemplates/entertainmented/tips/preventivehealth.html
http://www.hhs.gov/healthcare/about-the-law/preventive-care/index.html
https://www.cdc.gov/features/preventionstrategy/
http://www.nejm.org/doi/full/10.1056/NEJMp1008560#t=article
http://www.clinicians.org/images/upload/wessel_nurse_practitioners.pdf
http://kff.org/medicaid/issue-brief/tapping-nurse-practitioners-to-meet-rising-demand-for-primary-care/
http://www.aafp.org/news/practice-professional-issues/20150303aamcwkforce.html
http://www.clinicaladvisor.com/aanp-2011-conference/nurse-practitioners-outscore-physicians-in-patient-satisfaction-survey/article/206090/